PLAGA FARM:
A LIFE BEYOND FARMING
Started with a conventional open-field agriculture system in 1997, Plaga Farm has been evolved as Bali's leading hydroponic and organic greenhouse grower and today, under PT Agrito Roman Bali, we have been delivering fresh produce to your table under the leadership of our CEO and founder, I Gede Bingin Mustika. Our company started with a humble mission: to promote a healthier lifestyle, using hydroponic farming methods.
In order to ensure that all of the fruits and vegetables you receive are of the highest quality, innovation becomes one of the essential aspects in our company. Each of the products are a result of many hours of research and development that are cultivated with an organic and hydroponic system. All of them are grown inside a greenhouse, making them unaffected by the seasonal changes. No pesticides are used in growing them, and the optimal environment helps the produce to retain their best qualities without having to rely on preservatives.
What started as a small establishment has now evolved into an outstanding presence in the island of Bali. At its core, Plaga Farm holds the vision to become a leading innovator in the agricultural sector, while creating a sustainable environment for the next generation. Plaga Farm is more than just a farm with uncompromising quality; it is a bearer of change, a movement that aims to bring empowerment as well as environmental and economical improvements to the local communities
WORKING TOWARDS
A SUSTAINABLE FUTURE
At Plaga Farm, we recognize the importance of meeting the needs of our customers, without jeopardizing the needs of the generations to come. Our system is built upon the concept of sustainability, with special care in waste management and people development. Ever since our founding, our team has been actively educating the people around us through various programs that are designed to instill awareness on the pressing subject of sustainability. Case studies, regular training, as well as partnerships with like-minded organizations help to spread the understanding to the local communities.
By working closely with them, we are able to constantly find new ways to manage our resources, while also contributing to the ecosystem we live in.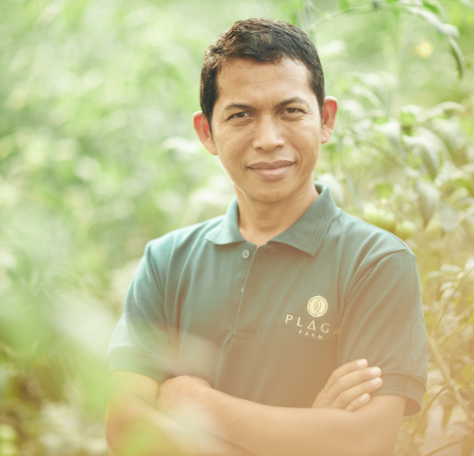 I Gede Bingin Mustika
Founder
With more than 24 years of expertise under his belt, I Gede Bingin Mustika leads the team at Plaga Farm to create high quality products, while being conscious of our impact on the environment. As a founder, he is directly involved in each of the processes, overseeing every little with meticulous eye for details. His extensive knowledge is the result of years of hands-on approach to the farming industry. He started with a small land in 1997, but quickly noticed the challenges that come with conventional farming methods. This brought him to construct greenhouses In 2005. One of the traits he possesses as a self taught entrepreneur is a thirst for knowledge, which pushes him to always be on the lookout for the latest developments in the farming industry, oftentimes visiting other countries in his pursuit.
WHY HYDROPONIC
Growing plants using hydroponic methods comes with numerous benefits. The system requires less water and no soil, which resulted in better water conservation. Through this system, crops are fed nutrient-rich water. Since water and nutrients are delivered right to the roots, they don't need more space to spread. Subsequently, more plants can be grown in a designated space, compared to conventional farming methods. With such an optimal and controlled environment, crops can grow faster, with much higher quality.